Welcome to Rawal Kot Jaisalmer

Perched on a rocky incline and seemingly rising out of the rocks, Hotel Rawal Kot, Jaisalmer, draws its charm from Rajasthan's traditional, and trademark, the haveli (mansion). We, at Hotel Rawal Kot, are committed to serving you an authentic Rajasthani experience, infused with contemporary efficiency. So while the architecture exudes old world charm, guests find the rooms smart, with tastefully appointed interiors and amongst the best amenities in the city of Jaisalmer. A near perfect blend of the old with the new.
 Rooms at Hotel Rawal Kot are well equipped, with all modern comforts and requirements. A close knit team of highly efficient and intuitive staff is at your service round the clock. Drawing from the concept of a traditional Rajasthani haveli Hotel Rawal Kot has numerous terraces providing a spell binding vista. A soothing dip in the tastefully located swimming pool allows guests to watch the Jaisalmer Fort change colours from sunrise to sunset].On offer in the restaurant are international and Rajasthani favourites, and yet another breathtaking view of the Jaisalmer fort.To enhance the guest experience, Hotel Rawal Kot organises Jeep and Camel Safaris to the picturesque sand dunes at Khuri and Sam villages.To give guests a close up experience of Rajasthani arts, culture and heritage, Hotel Rawal Kot also arranges folk dances and music by the poolside.In case guests request, the hotel could also make arrangements for a tented camp tucked into the shadow of the sand dunes, a little distance away from Jaisalmer. That is an unmatched experience.Hotel Rawal Kot is barely two kms from the Jaisalmer railway station. It is also easily accessible by road from Jodhpur, which is about 300 kms away.  Hotel Rawal Kot has 37 guest rooms, which includes 5 tents that are operational from October to March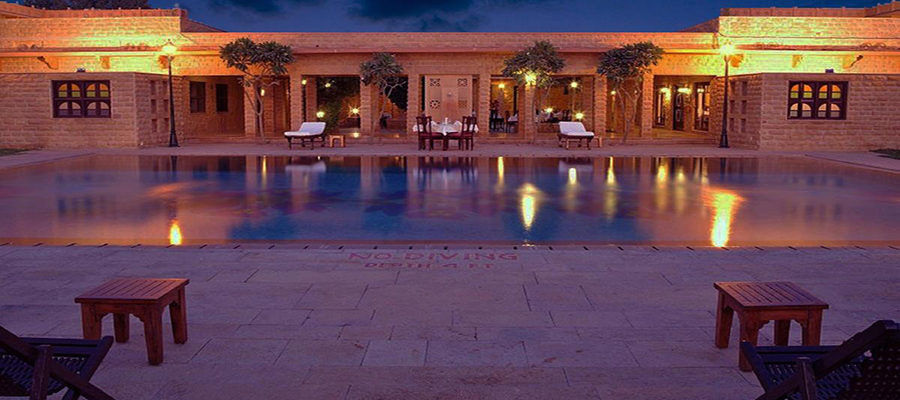 Hotel Room Categories –
Deluxe Rooms – The well-appointed rooms are ideal for travellers who want privacy, as well as modern amenities. Hotel Rawal Kot is the ideal place to just put your feet up, relax, read a book, de-stress in the swimming pool, spa, or the fitness centre. Maybe even catch up with some work, in clean and quiet surroundings.
Deluxe Air-conditioned Tents – These deluxe air-conditioned tents, pitched during the winter months, blend a rustic feel with modern style. Each tent has a bathroom, ensuite, and a private verandah to enjoy the sunrise and sunset.
MEET & CELEBRATE – Jaisalmer Lounge Hotel Rawalkot, Jaisalmer is well equipped to host small meetings & corporate conferences. It has a thoughtfully designed event space that can be used for cocktailorbirthday parties. However, it is our unmatched hospitality that makes us the obvious choice forsocial and business events.The Jaisalmer Lounge and thepoolside, amongst the best in the city, make for the perfect setting for gatherings. At Hotel Rawal Kot, we understand all your business needs. Along with access to the latest business amenities and a highly efficient staff, the hotel also provides efficient spaces for business events. Be it a confidential meeting or a business conference, we ensure that your business events are pulled-off perfectly.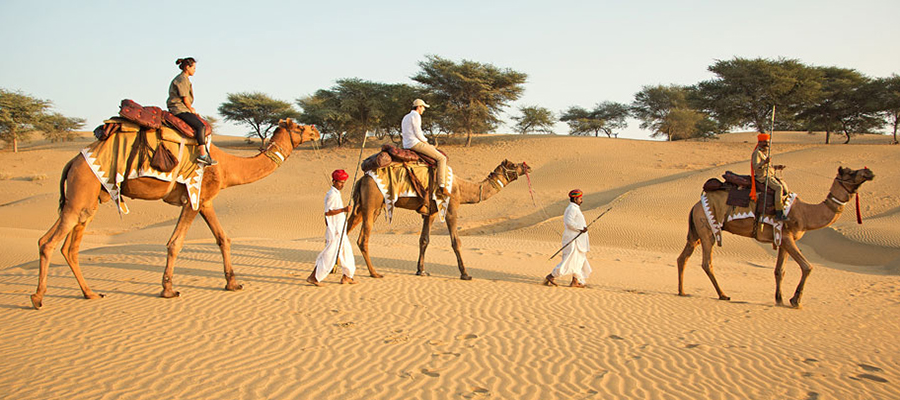 Hotel Rawalkot, Jaisalmer takes pride in housing one of the best restaurants in the city. Our chefs are famous for their innovative recipes and appealing presentation. If the preference isfor authentic Rajasthani food or even international gourmet food, guests need look no further. Expect to be spoilt for choice while enjoying a panoramic view of the famous Jaisalmer Fort. Our signature dishes like Laal Maas, Bajre ka Sogra and Dal Bati &Churma are legendary in their own right. In our bid to deliver authentic, undiluted experiences, we've introduced a unique regional home style dining experience. Always prepared with a local touch, the home-style cooking ensures that you maintain good health and at the same time gives you the opportunity to get a taste and feel of local delicacies.
Spend a whole night or an evening in the Thar Desert at Jaisalmer and enjoy
Camel Safari
Jeep Safari
Musical evening
And pure Rajasthani food at a desert camp under the clear sky of Jaisalmer's desert.
Just step away from city life for a day and understand the real desert life with us…
Our Facilities

Guest Room Facilities
Safe Deposit Locker
Air – Conditioning
Heating
HD LCD TV
Free Wi – Fi
Telephone
 Room Service
Tea / Coffee maker
Mini Bar
 Conference Facilities
The Conference hall can accommodate about 20-25 people in classroom style.
Other Hotel Services
Swimming Pool
Organised Safaris(Camel / Jeep )
Rajasthani folk music,dance and puppet show on request
Free Wi – Fi
Doctor on call
Laundry
Travel counter
Credit Cards
Car / Coach parking